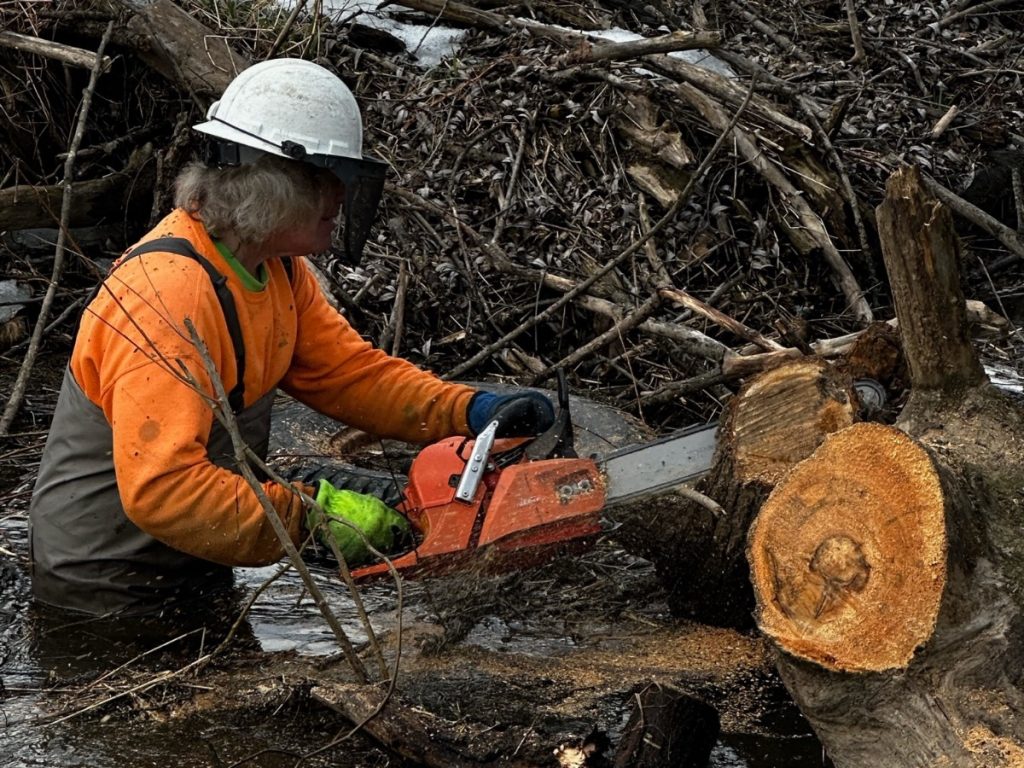 The Kiap-TU-Wish "work season" aligns with our fiscal year which spans April 1st to March 31st.  Our work consisted of tree planting, seeding/mulching, stream shocking, and tree and brush removal. Additional tasks for which I recorded volunteer hours included installation of bluebird nest boxes, opening and cleaning them in the fall, and closing them up again in the spring. Time spent watering trees and shrubs that were planted on the new Cady Creek restoration was also logged. A total of 31 volunteer workdays this past year consisted of, 25 brush/tree removal days, 3 seeding/mulching days, 2 stream shocking days, and 1 day dedicated to tree planting.  As you might imagine, the bulk of our time was spent removing trees and brush from stream corridors and accounted for just over 1,400 of the total 1,573 habitat volunteer hours. 
Total habitat volunteer hours are down from several years ago when totals reached or exceeded 3,000 hours. My biggest disappointment as our volunteer coordinator is the low turnout for brush and tree removal workdays. Of the 283 individuals who are currently on the MailChimp list for receiving workday notices, only 56 turned out at any one time over the season to help with our work.
Our clearing operations began in October at the close of the inland fishing season. We cleared box elders, buckthorn, and honeysuckle from the Quarry Road site just upstream of the Hwy 35 bridge and had plans to involve the Greenwood Elementary 3rd graders as a part of their service learning project by providing an opportunity to help burn all of the slash. A blizzard on the scheduled burn day resulted in deep snow cover which lasted throughout the winter and forced us to postpone the event until April 21st of this year.
Starting in early December, we moved our workdays to Cady Creek and at the direction of Kasey Yallaly (WDNR) began clearing box elders and other invasives from the stream corridor between the upper two parking lots on 50th Street. This will help facilitate periodic mowing and allow for easier stream access. Between December 2022 and March 2023, we spent 17 days at this site logging in over 1,100 hours during that period. This particular stretch of Cady had undergone streambank restoration back in the late 1990s and some of the box elder trees along that stretch had trunks over 20" in diameter plus we cleared and removed a number of trees that had fallen into the creek.
I would like to recognize the efforts of a number of volunteers who turned out time and time again to help with the workdays, these include: John Skelton 21 workdays, Dave Gregg 18 workdays, Jim Tatzel 17 workdays, Loren Haas and Trish Hannah 13 workdays, Jeff Dahl 11 workdays, Jim Sackrison 8 workdays, James Patterson and Steve Cox 7 workdays, Matt Janquart and Greg Olson 6 workdays, and John Kaplan, Ted Higman, Don Fritz, Dave Kozlovsky and Jeff Himes 5 workdays. I dare say that most of those listed above have more than a few grey hairs on their heads and I hope that in looking to future projects an influx of youth would certainly enhance our habitat efforts.
Box elders, buckthorn and honeysuckle are growing on our easements faster than we can cut them down. The WDNR no longer has the funds or manpower to handle any of this work and it depends on our chapter to step up to the plate each year to do what we can to keep the easements and restorations within our chapter area from becoming overgrown and unfishable.
I took on the job of volunteer coordinator some 12-15 years ago when I was still in my 50's and my body was easily up to the task. Despite turning 70 in January, I still hope to continue leading workdays for another 10 years. I would, however, appreciate some more participation from more of the individuals who are listed in our pool of volunteers.
This fall we will continue to hold workdays throughout the brushing season from Oct. 15th when the fishing season closes, until such time in the spring when we can no longer burn the slash from the removed trees and brush. It's my hope that we can return to earlier times when 25 or more volunteers turned out on a regular basis with occasional workdays consisting of 30 or more.
I intend to start a new volunteer list before the beginning of the next brushing season. The list will be called "Brushing Volunteers" and it is my hope that if you request to be on the list you will do so with the intent of participating in our workdays on a regular basis. Knowing that we have a committed list of volunteers is important when assessing the time and effort necessary for each project as I continue to work with Kasey and the Kiap-TU-Wish board to determine what future habitat projects.